Sponsored by AIM EMS Software and Services
By EMS1 BrandFocus Staff
Now more than ever, EMS agencies must systematically bill patients and insurers for services rendered.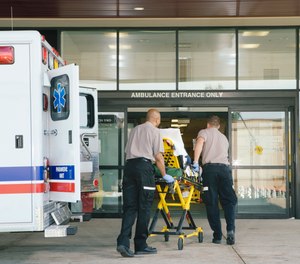 Call volumes and operational costs have increased dramatically over the past 10 years, forcing small agencies / volunteers to use paid physicians when there are not enough volunteers available to fill shifts . At the same time, a lack of funding leads to critical failures in the response time of these agencies, the availability of continuing education and the replacement of obsolete and dangerous equipment.
Unfortunately, some patients are unable or unwilling to pay for their ambulance trips, often assuming ambulance transportation is a free public service without realizing that EMS agencies depend on these funds. Without properly executed collection and tracking, these overdue accounts can go unnoticed and ultimately unpaid.
Meanwhile, misclassified and monitored EMS invoices to insurance companies can also go unpaid. Insurance income is the handy fruit of EMS financing at a time when no EMS agency can afford to leave money on the table, so it is essential that these claims are filed in a timely manner.
Why EMS Billing is Painful for Small EMS / Volunteer Agencies
Unlike their big government / business cousins, small EMS / volunteer agencies often lack the resources to run efficient billing services. As a result, their patient accounts may be incomplete and contain incorrect data, making it difficult to bill patients directly and ensure their accounts are paid on time.
Minor errors, missing patient information and inconsistencies can delay an already cumbersome process and lead to filing errors with insurers, who will reject claims due to wrong codes and other documentation errors.
Short of resources, small EMS / volunteer agencies often leave the most troublesome overdue claims unpaid. They are owed this money and desperately need it, but do not have the means to pursue these claims to their proper conclusion.
Software adapted to the needs of EMS agencies
One way to ease the pain of EMS billing is to seek help from an EMS-centric ePCR software vendor like AIM EMS Software and Services (aka Ambulance Information Management). This company's cloud EMS Billing Software and Services were created by EMS professionals who understand the unique nature of EMS billing and the challenges EMS agencies may face in settling their accounts quickly.
"The biggest misconception is that medical billing and EMS billing are interchangeable. They are not," said Michelle Corey, vice president of operations at AIM.
Medical billing works with specific diagnoses, while EMS billing is based on the apparent condition of the patient.
"This means that coding and billing is done based on the electronic patient care report, which includes essential information about how the patient was found at the scene, the results of assessments, procedures performed, medications administered, mileage and more, "said Corey. "AIM's integrated ePCR and EMS invoicing software is tailored to these specific requirements, in an easy-to-use format that makes life easier for EMS agencies. "
What AIM Invoicing Software Provides to EMS Agencies
AIM sees billing as the logical third step in an integrated patient care process. The first step is computer assisted sending. The second step is patient care.
To streamline invoicing, the data entered in steps one and two is used to automatically complete and track invoices issued in step three, with the invoicing process managed through a simple and clear web user interface. This way, virtually all of the data entry work associated with manual invoicing is already done by the time the agency issues the invoice.
With the help of AIM, the correct billing codes can be pre-programmed into the billing system to minimize errors and bribes from insurers. Integrating the ePCR process in this way dramatically reduces the need for a dedicated billing service while bringing effective accounts receivable management within the reach of small agencies / volunteers.
AIM also automates the tracking and resolution of overdue accounts and accepts electronic payments to reduce human intervention. The result is that more accounts are paid quickly, which greatly increases the income of EMS agencies.
Help when you need it
While small EMS / volunteer agencies may struggle to have the resources to manually track essential billing, larger EMS agencies have their own challenges.
EMS invoicing is complex and requires experience and expertise to track all moving parts. It's not an easy skill to replace, so when an EMS billing professional takes time off it can leave a big gap in capacity.
It's there that AIM billing services can intervene, either temporarily to fill a gap, or to take charge of the invoicing of agencies whose circumstances may have changed and need a new economic model.
"We can pick up where they left off to make sure they won't have any disruption in their revenue stream until the capacity gap is resolved," Corey said.
AIM's billing services professionals bring a wealth of knowledge not only of EMS billing, but of the full spectrum of the EMS workflow as well. Because it has complementary CAD and ePCR software that integrates with invoicing software, AIM is uniquely suited to serve customers throughout the process.
For more information visit AIM EMS Software and Services.
Read more : 10 things that are delaying your billing and receipt